*sigh*
Once again I am at that point where I beg for forgiveness. I haven't put out any postings in so long! I have been doing homework, going to work, trying to get new pendants done, reading three novels for class, replying to a billion emails, dealing with 4 family birthdays in one weekend, and *takes a breath*, I've added another huge project to my pitifully small plate.
Stuck at Prom Scholarship Contest.
You may be thinking, 'what on earth is that?' I was too. I have mentioned before that I am a Chemical Engineering major, but I have a love for all things crafty and artsy. ;) A friend of mine knows that I also excel at fashion design and turned me on to this great opportunity. Have you figured it out yet?
The contest?
Make you and your date's outfits for prom out of duct tape
.
Oh yes, you didn't read that wrong. My latest undertaking is to make a dress for me and a suit for my boyfriend completely out of duct tape. :3 I must be crazy. I've already started this long and tedious process and, surprisingly enough, it's been fun and in two days I'm half done with my dress. It is going to be a ball gown inspired by the fashion of Marie Antoinette. Yep, that confirms it, I must be losing it. (by the way, obviously I'm not in high school, but my boyfriend of two years is. Just to clarify. :D ) My Dad laughed when he heard I was doing this, after his initial reaction of becoming pale and asking me about my grades. *laughs*
Well, wish me luck!
What, you thought I wouldn't give you a picture of my progress? I'm not that cruel! ;)
It's kinda bad quality since I took the picture with my phone. Tell me what you think!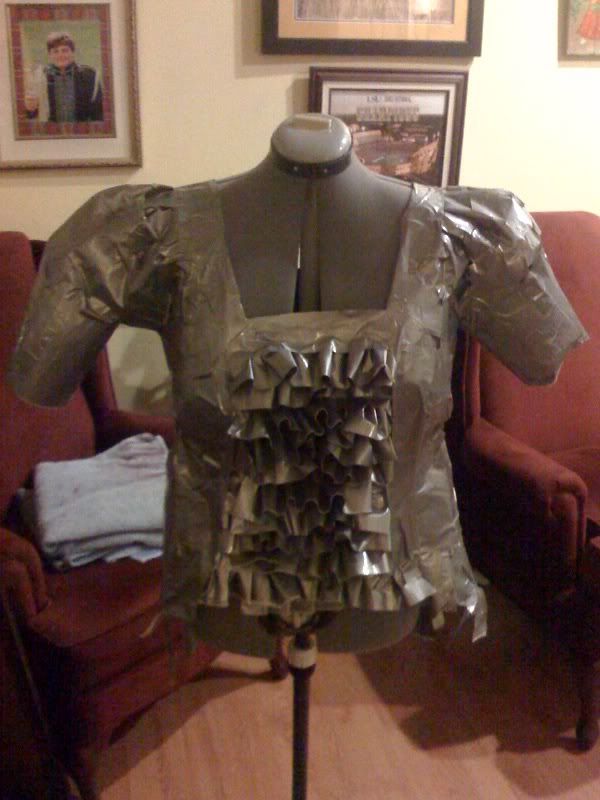 Yes, it's all silver right now. I'm painting it later. :)
Here's the link to the Stuck at Prom Website:
http://www.duckbrand.com/Promotions/stuck-at-prom.aspx
From the last entry:
Want to see more Owls that posted just a little too late on the forum?
Here's the link to tuns of super cute and cool Owls!
http://www.etsy.com/forums_thread.php?thread_id=6435105&page=3